Review: You will burn in the storm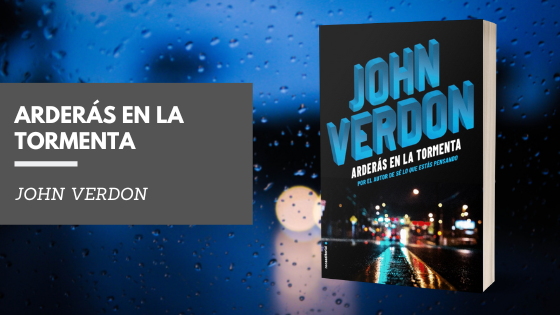 SYNOPSIS: YOU WILL BURN IN THE STORM

Tension has been rising in White River. The imminent first anniversary of the shooting death of a black motorcyclist by a local police officer unsettles an economically depressed and racially polarized population. Incendiary speeches have been made. Angry demonstrations have begun. There have been isolated cases of arson and looting. In the midst of all this turmoil, a sniper kills a police officer and the situation spirals out of control. The county district attorney comes to Dave Gurney, a retired NYPD homicide detective, with a strange proposal: he wants Gurney to conduct an independent investigation of the homicide and report directly to him.
OPINION
«You will burn in the storm» is the sixth novel by John Verdon in which he introduces us to detective again Dave Gurney, who this time will have to get involved in a high-profile case in a city where racism is very present. The district attorney asks Gurney to help him independently investigate the murder of a police officer at the hands of a sniper amid anti-racism protests, which has inflamed tempers in the city so results are needed as soon as possible. What Gurney doesn't know is that his investigation will take him to the bottom of police corruption and uncover a conspiracy with overtones of revenge.
This time John Verdon seems to have taken a downturn and taken its star detective to a story that does not easily engage as its predecessors did, in which we will see the protagonist go around among corrupt police officers and planted evidence that leads him to doubt the good intentions of the investigation. official, a premise that seems to have everything to create a good police thriller but ends up disenchanting when wanting to embark on a political ship that does not end up coming together, and that is that «You will burn in the storm» carries with it a strong social criticism of racism that unfortunately becomes blurred to give way to plot twists that attempt to justify the complexity of the plot, which in reality is nothing more than smoke.
Although it is true that the story cannot be as fast-paced and entertaining as is expected from John Verdon, no less so that he still knows how to handle his main characters, always placing a tension between Gurney's obsession with the cases and his relationship with his wife Madeleine, as well as his distant friendship with his colleague Jack Hardwick, making a duo perfect. In addition to this, it is worth noting that Dave Gurney's ingenuity in following the clues of the case and finding inconsistencies remains impeccable; perhaps it is a little marred by the fact that there are many plot twists in the resolution of the case.
«You will burn in the storm» will not be the best novel of John Verdonbut it is still enjoyable as much as possible, and even with its lights and shadows it manages to give us a story in which we will hardly find the truth until Gurney's ingenuity wins us over in solving the case.
QUALIFICATION

JOHN VERDON
American author born in 1942 who worked as an advertising executive in Manhattan. A late writer with a literary conception close to Thomas Harris, Harlan Coben or Michael Connelly, he achieved a notable commercial reception with his first novel, the police intrigue "I Know What You're Thinking" (2010). The book, which became an international best-seller, introduced the character Dave Gurney, a retired New York police officer who was also the central focus of his novels "Don't Open Your Eyes" (2011) and "Leave The Devil Alive" (2012). . His last work published in Spanish is "No Confies En Peter Pan" (2013).
Source: https://un-libro-un-cafe.blogspot.com/2021/11/resena-arderas-en-la-tormenta-john.html