A book a day: Menchu ​​Gutiérrez: The unforgettable window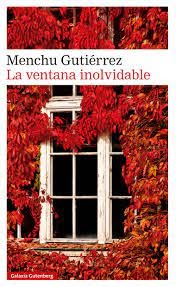 Original language: castellano
Year of publication: 2022
Valuation: Recommendable
On one occasion I attended a very interesting painting exhibition entitled The window in art, with very suggestive works. The window is an object with a great symbolic charge and that facilitates metaphor and reflection: inside and outside, transparency, reflection, broken glass, the sound that enters from the street or leaves the house, the closed window, the cell, the front window. A thousand images to stop at or that give rise to fantasizing or remembering. All these perspectives and many others are covered by Menchu ​​Gutiérrez, an author who left me dazzled with The fog, three times and, if I'm not mistaken, I hadn't published fiction for some time.
Menchu ​​Gutiérrez writes extraordinarily well, not only because of his use of language, but because of his economy of means (the exact word, figures yes, but only the necessary ones) and the ability to maintain a smooth rhythm, not slow, that fits like a glove to what the narrative demands. I also like how he keeps his distance, how what he says, although he is impregnated with emotion, he seems to have received an antipyretic that has left him at the desired temperature, which is rather lukewarm.
All this gives the prose a kind, calm and intelligent character, as if someone were revealing to us unusual perspectives on things, aspects that we had never noticed. The window is in this case a leitmotif, an excuse to talk about life, about human beings and their small or big stories, about memories, images or sensations. And indeed we found all that we had come to look for when we decided to read a book by Menchu ​​Gutiérrez, what ideas does the object that we have taken as an instrument evoke in us, in this case the window, any type of real or metaphorical window, all of them, the window metaphysics.
The book is thus a succession of small reflections, three or four pages, some subtly connected, others completely independent, derived from that random walk. It has something of an exercise in style, or rather a literary workshop, let's say For next week we are going to write a few pages about the window. And in that hypothetical workshop Menchu ​​is always the one who writes the best, the one who finds the hidden nuance, the most brilliant analogy, and she does it with true mastery, without overcounting or undercounting, without generating noise, sometimes sowing concern, sadness, play.
I especially liked, because I had not seen it until now, a sequence of passages related to the recent confinement, of course, what more decisive element than a window when one is confined at home and without possible remedy, sees and listens through things she had never noticed before, the silent streets or a single car that is supposed to pass several blocks away, the wind, previously unknown neighbors or a sunset over the rooftops. All this, of course, told with enormous finesse and placing the people who look from one side or another looking for some communication.
However, there is something that surely should not be done but is inevitable to do: compare with previous experiences. For my part, I already made clear at the time my admiration, almost enthusiasm, for the stories in the book cited above, and that is a difficult level to match. So anything that comes from Menchu ​​Gutiérrez is going to have the burden of hateful comparison. I suppose that when one writes a new book one has the intention of doing something different, of penetrating other fields, so what I say will not be very academic, but I have missed something more risky, something disturbing that only appears occasionally. very isolated, that touch of the implausible that transmits some tension.
Possibly it is a silly criticism, the author did not want to enter that world this time and that's it. What she has written is almost perfect, with her elegant and warm style, her precision and her exact rhythm. But perhaps some reader, me at least, would have wished a little more, to use that talent for something more ambitious, that transcended intimacy or handled it with more courage, as she has done before. There will be more, surely, and we will be here to tell it.
Other works by Menchu ​​Gutiérrez in ULAD: The fog, three times, spider, swan, horse
Source: https://unlibroaldia.blogspot.com/2023/11/menchu-gutierrez-la-ventana-inolvidable.html